🌿 Embracing Sustainability: $2 Green Fee for all In-Store services 🌿
Consultations
Looking to transform your hair with high-quality extensions? Our salon offers personalised consultations with our team of specialists to help you find the perfect look. During your consultation, we'll take the time to discuss your desired length, colour, and method that will best suit your needs.
If you decide to move forward with an appointment, we require a 20% deposit to confirm the booking.
This allows us to reserve the necessary time and resources to ensure that your hair transformation is a success. Our team of experts will work closely with you every step of the way, from selecting the right type of method to installing them flawlessly for a stunning finished look.
Schedule your Weft consultation today and discover how our salon can help you achieve the Mane of your dreams.
Afterpay & Zippay Available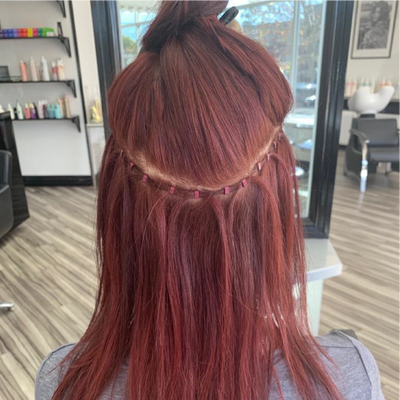 Method 1:
Beaded Track Weave
The original and most popular method.
Pros: Suitable for all hair types, reliable for longevity of wear, secure, no damage, 1-hour install or refit for up to 3 rows.
Cons: Can only be used with machine weft, not completely discrete and can expose beads when wearing in high ponytail.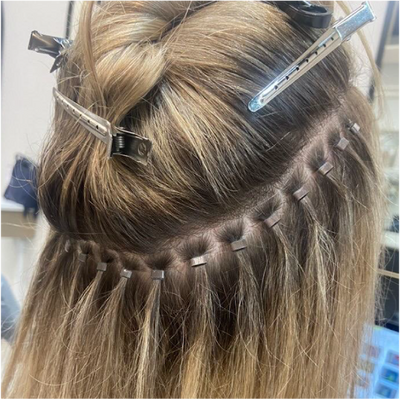 Method 2:
Mane Stream Weave
The Mane Stream Weave method was created to be
efficient, practical and affordable.
Pros: Affordable, can be used with many types of wefts, quick and easy installation, express move ups.
Cons: Only lasts up to 6 weeks, beads can be exposed when wearing in ponytail, not suitable for very fine hair.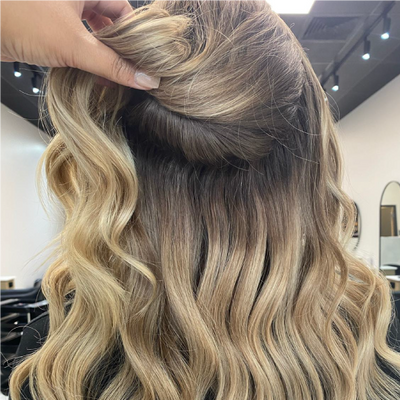 Method 3:
No Show Weave
The No Show Weave is an advanced method that allows you to have your hair in a high ponytail without the visibility of the beads.
Pros: Most seamless, no visible attachments, can tie your hair in a high ponytail.
Cons: Takes longer to install, more expensive.

Instore & Online
Luxemane Collection Extensions are the highest quality wefts
available on the Australian Market. They are 100% raw, chemical & silicone free and can last you up to 2 years.